10 Reasons to Choose Concrete Parking Lots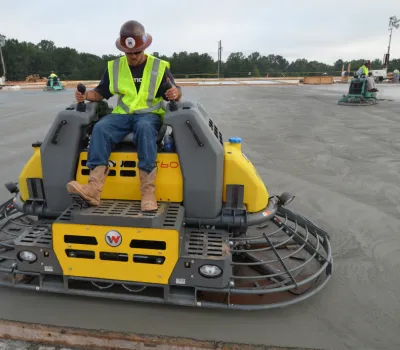 There is only one chance to make a good first impression on clients, which begins with your choice of the parking lot. Providing a durable, presentable structure for your parking area can enlist a positive first impression on your clients as well as provide your business with many advantages in terms of cost, maintenance and aesthetic appeal.
Aesthetic appeal – Concrete provides a clean appearance that can be visually appealing to customers and tenants. It does not wear down as easily as other materials, allowing you to have a beautiful parking lot for many years without extensive maintenance.
Durability – Concrete has the ability to withstand excessive traffic and weight, making it a popular choice for commercial applications. With proper care, concrete parking lots have been known to last up to 30 years.
Low maintenance – Concrete does crack over time, but it occurs less frequently, and requires less maintenance than other alternatives. The only required maintenance, which can be done as often as you see fit, is a thorough washing with a pressure washer and occasional sealing of the cracks to prevent water from seeping through and causing its deterioration.
Variety – Concrete is available in a wide variety of colors and can even be stamped if you so desire. This allows you to get the customized look that you desire for your business, furthering your appeal to your customers.
Lower utility bills – Concrete is easier to provide ample light at night, which means less lighting is required, translating into lower utility bills. This can help to further the cost savings of a concrete parking lot as well.
Lower temperatures – Unlike asphalt, concrete reflects the heat of the sun, rather than absorbs it. This allows you to provide a cooler atmosphere for your clients, rather than causing them to feel uncomfortable before entering your place of business.
Decreased number of cracks – Concrete parking lots are made with expansion joints to allow for the expansion and contraction of the material that occurs from excessive heat and cold. This allows for fewer cracks in the concrete fields, allowing for a longer life and more beautiful surface.
Lower overall cost – Concrete parking lots are more cost effective from installation through upkeep than asphalt. The materials themselves cost less to have installed and with lower maintenance requirements, you are able to save more money in the long run.
Installation during many seasons – Concrete has the ability to be installed in lower temperatures than asphalt allows, which means that you have a longer window of opportunity to install your parking lot when choosing concrete.
Make changes easily – If you have an existing concrete parking lot that you would like to change the appearance of, it can be done rather easily by staining it with an alternative color or design. This too can save you time and money in the long run, rather than requiring you to install an entirely new surface.