Martin Concrete Helping Build Atlanta's Film Industry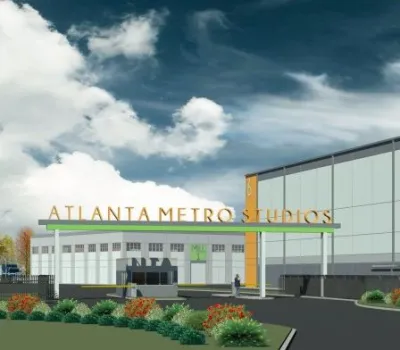 Southside's film studio cluster growing
The movie business in Georgia will generate more $6 billion this year and there's no better evidence of the size and permanence of the industry than in the film studios now springing up on Atlanta's Southside.
Tyler Perry Studios has a new facility planned for the former Amy base Fort McPherson in East Point. In Union City, 404 Studio Partners LLC is building a 345,000-square-foot campus for Atlanta Metro Studios on the 25-acre site of the former Shannon Mall. The two will join the already busy Pinewood Atlanta Studios in Fayetteville, where one of the year's biggest films — Marvel's "Ant-Man" — was just shot.
Georgia is also the site of the nation's largest film studio project. Moon River Studios, a division of Rincon, Ga.-based FONU2 Inc., is developing a 1,560-acre full service production complex in Effingham County.
"Once you have purpose-built infrastructure that is to the scale of, say, a Pinewood or an Atlanta Metro Studios, you have the ability to capture the Hollywood 'tent pole' movies," said Ed Richardson, co-CEO of 404 Studio Partners.
Feature film and television productions generated an economic impact of more than $6 billion during fiscal year 2015. The 248 film and television productions shot in Georgia represent some $1.7 billion in spending in the state, according to the Georgia Department of Economic Development.
Driven largely by the state's generous tax credits, new movie studios of various sizes have sprung up throughout the metro area. From Atlanta Film Studios Paulding County to the set of the TV series "Drop Dead Divas" in Peachtree City, sound stages are all the rage as more and more projects make their way to the state.
Projects like Atlanta Metro Studios have been drawn to the Southside by lower land costs and the availability of large parcels needed for a major studio, according to Richardson.
While most of these operations have been small and aimed at lower budget productions, the new studios are well equipped, large scale operations that can handle the largest Hollywood projects.
The larger studios are a sign that Georgia is developing a permanent movie-making infrastructure with film professionals from lighting crews to caterers now making the state their full time home.
These studio executives are predicting that "close to $30 million in brand new equipment being pledged to delivered" for production work expected to shoot at the new facility, according to Brian Livesay, CEO of 404 Studio Partners LLC.
"That's not us investing the money, but individual companies expanding their fleet in order to service the increased level of production that will happen because of our facility," he said. "That happens with many other facilities as well — particularly purpose-built facilities."
Grading of the Shannon Mall site is underway with construction expected to be completed in 2016. The first phase will include 130,500 square feet of sound stages, 60,000 square feet of office space and 50,000 square feet of mill (construction and flex space).
The Southside offers movie studios a number of advantages. It's a short drive to Hartsfield-Jackson Atlanta International Airport and flights to anywhere in the world. Film crews also like the less congested traffic and the easy access to hotels, restaurants and suppliers, according to Emily Poole, business retention and expansion manager for the Fayette County Development Authority.
The region offers location settings for films that need to get off the sound stage for a more realistic look.
"We have a wide variety of everything from commercial to housing stock to farm land to downtowns," said Poole. "So we tend to draw not only Pinewood-related productions, but those that come here to do location filming."
The growth of the film industry in the state means it's less of a hard sell for economic developers. Film producers already know when they get here they will have ready access to both the facilities and the talent they need.
"It's certainly gotten easier," said Lee Thomas, deputy commissioner of film, music and digital entertainment at the Georgia Department of Economic Development. "We're not doing near as much marketing because most of our business is people who come back here time and time again. It's making sure logistically that we're supporting them and they get what they want and have a good experience."
To ensure enough trained talent for staffing film crews, Georgia recently embarked on a workforce development effort for movies. Gov. Nathan Deal recently announced creation of the Georgia Film Academy earlier this year. A collaboration between the University System of Georgia and the state's technical colleges, the initiative is designed to provide students with degrees or certifications that fulfill industry needs and demands.
The increased level of work has enabled film professionals to make Georgia their full-time home rather than commuting back and forth to Los Angeles. One set decorator not only moved here but over the last several years purchased nine homes as rental properties for other film professionals working in the state, according to Livesay.
The growing number of studios has prompted concerns of oversupply in some quarters, but others say the amount of business is still exceeding the available space. Locating studios close together can help in driving business as well.
"Having other resources close to us is a good thing," said Richardson, who noted the major studios in Burbank, Calif., are within sight of each other. "We think it's just another way to help grow the business by keeping close proximity to all these other vendors who will be there and work around and support our individual properties."
http://www.bizjournals.com/atlanta/print-edition/2015/07/24/southside-s-film-studio-cluster-growing.html