Project Spotlight: MLS - Atlanta United FC Practice Facility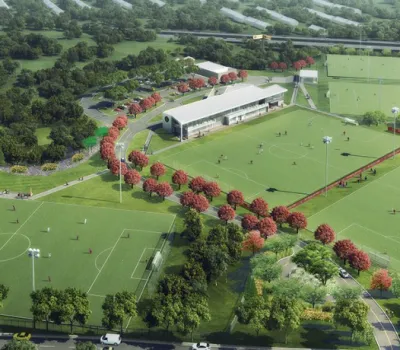 History suggests that Atlanta United FC face a tough learning curve when they enter MLS as an expansion side next year. But the new club is already aiming for "best in MLS" status, months before their team kicks a ball in anger.
On Monday morning ATL UTD unveiled their dazzling plans for the $60 million training complex and club headquarters currently under construction in Marietta, Georgia, a 32-acre facility featuring six fields (three natural-grass, three synthetic-turf) and a glittering 30,000-square-foot building that will house the first team, academy squads and front office personnel and staff.
Construction got underway in February, and the fields will be ready for use in January 2017, when Atlanta's inaugural roster begins formal preparations for its MLS debut. The building will be completed by early April 2017, with the first team likely to schedule early preseason camps in other locales as a result. ATL UTD will also have access to three more fields a quarter of a mile away which are being built in partnership with Marietta Parks and Recreation.
"I'm really excited about what we will build," club president Darren Eales told the Atlanta Journal-Constitution."Everyone feels connected to the team the whole way through."
Crafting partnerships with leading area youth clubs, ATL UTD are already getting their youth academy off the ground and the new complex is designed to guide and groom youth prospects towards their eventual goal of a professional career. Each Under-18 player will be mentored by a member of the first team, a system that will be replicated from top to bottom through the academy.
"We want the kids to get glimpses of their first-team heroes," Eales said. "We want everyone to prepare to be professionals. It's about getting academy players to the first team and the matches."
http://www.mlssoccer.com/post/2016/04/18/atlanta-united-unveil-dazzling-plans-best-mls-training-complex