Project Spotlight: The Battery at SunTrust Park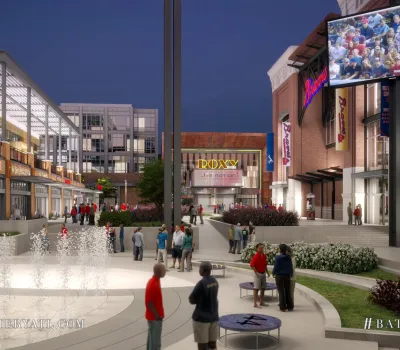 Battery Atlanta: A year-round destination for Cobb
The development of Battery Atlanta around the Atlanta Braves' SunTrust Park promises to bring numerous benefits to Cumberland-Galleria and the rest of Cobb County as it creates a year-round destination to accompany other attractions in the county.
"One way to look at SunTrust Park is as the anchor tenant for Battery Atlanta, which we think is a truly unique, first-of-its-kind mixed-use development," said Braves' Executive Vice President of Sales and Marketing Derek Schiller.
Based on the notion that great sports venues are defined by the areas surrounding them as much as the venues themselves, Battery Atlanta "will provide a fan experience that extends well beyond the gates of the ballpark," Schiller said. "An experience that is as much defined by what the fan does before and after the game as by the game itself."
The restaurant/retail component of Battery Atlanta, being done by Brave's development partner Fuqua Development, leads off with a roster of restaurants that include Antico Pizza, Cru Food and Wine Bar, Tomahawk Taproom (featuring Fox Bros. Bar-B-Q), a Superica "Mex-Tex" concept by chef Ford Fry, and a steakhouse concept with chef Linton Hopkins. An additional 350,000 square feet-worth of retail is also on tap, according to Schiller.
The Braves are teaming up with Live Nation to develop and operate a 53,000-square-foot entertainment venue dubbed The Roxy Theatre. With a standing room only capacity of 4,000, it will feature approximately 40 music and/or comedy shows annually, mostly on non-game days; it will also be used for private and special events throughout the year.
And in the hospitality arena, Braves and Omni Hotels & Resorts are partnering to develop The Omni Atlanta Hotel at SunTrust Park, a full-service, 260-room hotel accompanied by approximately 12,500 square feet of meeting space, a signature restaurant, and an elevated pool deck and bar overlooking the plaza and ballpark.
Other elements of Battery Atlanta include the 250,000-square-foot One Ballpark Center office building, housing Comcast's regional office headquarters, developed in partnership with Pope & Land Enterprises Inc.; and 530 apartment units to be developed with Pollack Shores Real Estate Group.
Braves' games alone will bring more than 3 million people from Atlanta, the Southeast, and around the country to this part of Cobb County, Schiller said. But that's just 81 days per year, "and what we are creating with Battery Atlanta is a vibrant, 365-day-per-year, galvanizing destination."
"…not dependent on a baseball game…"
The Battery Atlanta mix is ramping up the existing SunTrust Park-related excitement level among office tenants and others in Cumberland-Galleria, saidChildress Klein Properties Partner Connie Engel, who handles leasing for most of the 2.4 million square feet of office buildings at neighboring Galleria.
"It reminds me of when Cumberland Mall added several more upscale restaurants to its east end," Engel said, a 2004 move that added The Cheesecake Factory, Maggiano's Little Italy, Ted's Montana Grill, P.F. Chang's China Bistro, and Stoney River Legendary Steaks to the mall's mix of eateries.
"It was a huge improvement for the mall that drew in a lot more people, which in turn changed the other kinds of retail tenants it was able to attract, and it also generated excitement that added a great deal to the vibrancy of the area, like Battery Atlanta will do, only more so," Engel said.
"What's important to realize is that all the great things that will be going on at Battery Atlanta are not dependent on a baseball game going on," said Ray Uttenhove, executive vice president and managing principal at SRS Real Estate Partners.
"By leading with restaurants as an anchor, Battery Atlanta is doing the same thing we are seeing in all kinds of pockets of development around the metro area," Uttenhove said. The restaurant market in the Cumberland-Galleria area as a whole currently has a focus on fast-casual and other nationals that do very well here, she said, "and the Braves are adding an exciting new facet with interesting local food and local chef-driven restaurants."
The anchor of the Cumberland-Galleria area also foresees good times on the horizon here.
"Cumberland Mall continues to receive tremendous support from our community partners, and the mall is well positioned to contribute to as well as benefit from the growth we are seeing," said Chris McCoy Sr., general manager for Cumberland Mall/General Growth Properties Inc.
There's nothing not to like about Battery Atlanta's impact on Cobb County's all-important tourism and hospitality industry, which had an economic impact of some $2.75 billion last year, supporting around 32,000 jobs in the process.
"We believe Battery Atlanta will be a great boost to tourism and visitor numbers in the Cumberland area," said Holly Quinlan, CEO of Cobb Travel & Tourism.
"The shops, chef-driven restaurants and attractions here will create a new, vibrant atmosphere that will attract a wide variety of tourists, and will provide something for everyone," she said.
Travel and tourism officials anticipate visitor traffic occurring 365 days a year, Quinlan said, increasing on the days when games are played at SunTrust Park.
"Additionally, with its proximity to a large office market and the Cobb Galleria Centre, it will be very convenient for the business traveler to access and enjoy Battery Atlanta's amenities," she said.
With the growth at the Cobb Galleria Centre, Cobb Energy Performing Arts Centre and increased business travel, additional hotel rooms have been needed in the Cumberland-Galleria area for some time, according to Quinlan.
http://www.bizjournals.com/atlanta/print-edition/2016/01/22/battery-atlanta-a-year-round-destination-for-cobb.html